MARK GEARY – The Foxhole Series – Vienna Fall Tour 2018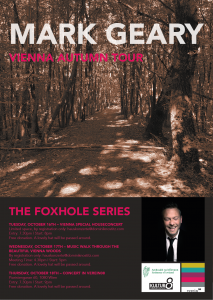 One of the very best songwriters of the time.
Beautiful Songs that go deep in our souls touched by the spheres and lights of autumn.
'I'm haunted you know? I think we all are at some point and to some degree: by our past, by people and memories, by loss, grief, youth, fear, lust, love? and can we learn from it or are we doomed to repeat the cycle? Ghosts is all about that but there is also hope in the songs. You can't live without hope' explains Geary of his Album.
"The best thing about Mark Geary is that he writes songs which all have the ability to become a personal favourite to anyone who hears them."
TUESDAY, 16th October – special houseconcert
Limited Space
nur per Anmeldung unter: hauskonzerte(at)dominiknostitz.com
Open doors: 7.30pm
Live Show: 8pm
free donation >  a lovely hat will be passed around
WEDNESDAY, 17th October – Music Walk through the beautiful Vienna Woods
This is a very special project to understand the haunting lines, melodies and rhymes in the work of Mark.
Within the tradition of the ancient troubadours we will follow a music walk through the famous Vienna Woods, who inspired so many great artists, scientists, composers in the last centuries. It will bring us closer to the lights of fall & autumn, to the songs and sounds of Mark Geary and last but not beast…to the nature around us and the nature within us!!
It is a new experiment of mine and i am very much Looking forward to our "foxhole experience".
all other Infos by registration only: hauskonzerte(at)dominiknostitz.com
free donation > a lovely hat will be passed around
THURSDAY, 18th October – Live concert in verein08
Piaristengasse 60, 1080 Wien
Open doors: 7.30pm
Live Show: 9pm
free donation >  a lovely hat will be passed around